SCHOOL ATTENDANCE MATTERS!
Amendments have been made to the Education Regulations governing school attendance. These amendments came into force on 1st September 2013. The amendments make clear that headteachers may not grant any leave of absence during term time unless there are exceptional circumstances.
We believe regular school attendance is vital in ensuring that children maximise the educational opportunities available to them.
If you're thinking about booking a holiday, school can no longer allow time off for holidays during term time. If you take your child on holiday during term time you risk getting a Penalty Notice Fine.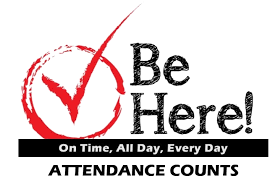 Over the last 2 years' attendance has been steady and is just in-line with the national averages (96%). Persistent Absence percentages are continuing to fall (5.12%). We currently monitor and offer support to our most vulnerable families aiming to improve attendance even further. Families taking holidays in term time have a significant impact on attendance figures.
Attendance activities include:
Weekly visits from the EWO

Meetings with parents regularly

Home visits – in exceptional circumstances we have collected of children from home

Week attendance targets and rewards – Y4CH won the year prize visit to the Chill Factor in Manchester
* This table includes children in reception who are just under school age